Elementos para una historia inter- nacional colombo-brasileña durante la primera mitad del siglo XIX
This article proposes a transnational approach to study the Colombian-Brazilian history between 1821 and 1853, based on the notions of national interest and balance of forces. Despite the importance of individual diplomatic actions, hemispheric and continental estimates explain many of the decisions made by the governments installed in Rio de Janeiro and Bogotá in this period. As will be seen in the following pages, the countries in the immediate vicinity of Colombia such as Peru, Venezuela and Ecuador, and even the European powers, played a prominent role in the establishment of a balance of power between the Republic of Colombia/ New Granada and the Empire of Brazil. The balance of power, in turn, impacted their border negotiations and the international projection of both countries.
Este artículo propone un enfoque transnacional para estudiar la historia colombo-brasileña entre 1821 y 1853, basado en las nociones de interés nacional y equilibrio de fuerzas. Pese a la importancia de las accio- nes diplomáticas individuales, los cálculos hemisféricos y continentales explican muchas de las decisiones que tomaron los diferentes gobiernos instalados en Río de Janeiro y Bogotá durante este periodo. Como se verá en las siguientes páginas, los países del entorno inmediato de Colombia como Perú, Venezuela y Ecuador, e incluso las potencias europeas y los Estados Unidos, tuvieron un papel destacado en el establecimiento de una relación de fuerza entre la República de Colombia/Nueva Granada y el Imperio del Brasil. Esa relación, a su vez, impactó las negociaciones de fronteras respectivas y la proyección internacional de ambos países.
Fichier principal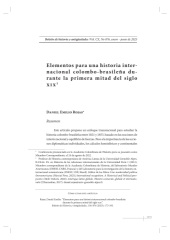 Elementos para una historia internacional colombo-brasilera durante la primera mitadl del siglo XIX.pdf (3.02 Mo)
Télécharger le fichier
Origin : Explicit agreement for this submission
licence : Public Domain